Hawaii
Kona
---
Roasting
Moka/Espresso
Hawaii Kona coffee grows on the slopes of the active volcanoes of the island. The most famous one is Kona, from which the coffee takes its name. Here, the coffee plants have the ideal soil and climate, to produce an aromatic, delicate coffee with a slight acidity.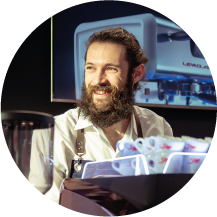 Who roasts our coffees?
Rob The Roaster, the Italian-Dutch trainer of Espresso Academy and SCA authorized, roasts your coffee. A great explorer of coffee, its processing methods, roasting profiles and the whole world who lives behind a cup of coffee.
Would you like
to contact Rob The Roaster
for more information on coffees and roasting profiles? Write to him at
[email protected]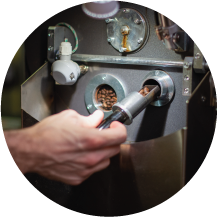 When do we roast?
Rob roasts your coffee on Tuesdays and Fridays, following the orders arrived. If roasted for espresso, the coffees are then subjected to degassing for 2-4 days, depending on the season and the variety of coffee.
Origin: Area of Kona
Finca: Aloha Farm
Growth altitude: 900-1000 mt a.s.l.
Variety: Kona, Typica
Processing method: washed
Everything you want to know
---
Although the cultivation of coffee began quite recently on the island, around 1828, Kona Hawaii has always been considered, together with Jamaica Blue Mountain (which is of same variety), the most prestigious coffee in the world. The plantations from which this coffee comes are located on the island of Kona, where Captain Cook first arrived in the eighteenth century.
A cup of Hawaii Kona coffee truly evokes the delicacy of the tropical breeze!
For this evaluation, the coffee was extracted in espresso at 94°C with an extraction of 25 ml in 27 seconds. The degassing of the coffee took around 48 hours. The crema is of a light hazelnut in color, while the aromas are slightly herbaceous and fruity, reminding us of pineapple and white peach. The taste of this coffee is not full-bodied, with a marked but not intrusive acidity and a light bitterness.