Santo Domingo
Barahona
---
Roasting
Moka/Espresso
By specific choice of the Dominican Replubic, their entire coffee production is Arabica, also to maintain a very high image of the coffee produced in this nation.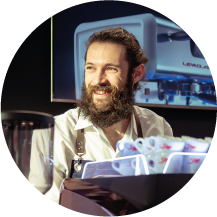 Who roasts our coffees?
Rob The Roaster, the Italian-Dutch trainer of Espresso Academy and SCA authorized, roasts your coffee. A great explorer of coffee, its processing methods, roasting profiles and the whole world who lives behind a cup of coffee.
Would you like
to contact Rob The Roaster
for more information on coffees and roasting profiles? Write to him at
[email protected]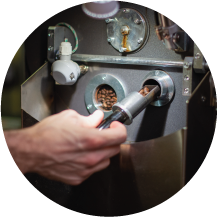 When do we roast?
Rob roasts your coffee on Tuesdays and Fridays, following the orders arrived. If roasted for espresso, the coffees are then subjected to degassing for 2-4 days, depending on the season and the variety of coffee.
Origin: Barahona
Growth altitude: 1000-1200 mt a.s.l.
Variety: Typica, Caturra
Processing method: Washed
Everything you want to know
---
The best qualities, such as those grown on high altitudes and coming from the southwestern region of Barahona, have a very beautiful appearance, with a sweet and very full-bodied taste, with an intense aroma and good acidity. All the coffee is treated with the washed processing method.
For this evaluation, the coffee was extracted in espresso at 93°C with an extraction of 25 ml in 24 seconds. The degassing of the coffee was 60 hours. In appearance, the crema is of a hazelnut color with reddish stripes. The body is light, which is also a result of the washed process which removes a lot of sugars, and they dissolve in the cup much less solid.
The coffee is very fine, the acidity is marked and the overall sensation is sweet.