Rum Barrique
Coffee barrique infused
---
Roasting
Moka/Espresso and filter
The ageing in Rum barrels gives this coffee intense and fascinating aromatic characteristics.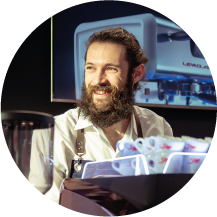 Who roasts our coffees?
Rob The Roaster, the Italian-Dutch trainer of Espresso Academy and SCA authorized, roasts your coffee. A great explorer of coffee, its processing methods, roasting profiles and the whole world who lives behind a cup of coffee.
Would you like
to contact Rob The Roaster
for more information on coffees and roasting profiles? Write to him at
[email protected]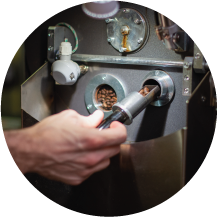 When do we roast?
Rob roasts your coffee on Tuesdays and Fridays, following the orders arrived. If roasted for espresso, the coffees are then subjected to degassing for 2-4 days, depending on the season and the variety of coffee.
Origin: Colombia: Caldas
Finca: Finca San Josè
Growth altitude: 1350-1470 mt a.s.l.
Variety: Castillo
Processing method: Barrique fermentation
Certifications: Specialty Coffee
Cupping score: 85 points SCA
Everything you want to know
---
The region of Caldas, in Colombia, has been recognized by the UNESCO as a Cultural Heritage since 2011. And it is in this area that the first production of a very special coffee started.
Finca San Josè is spread over 222 acres between 1350 and 1470 meters above sea level in a mid-mountain area which is mostly exposed to the sun. The soil is rich thanks to the ash of the Nevado del Ruiz volcano, and the average temperature is between 21° and 25°C. The family business was founded in 1963 and is now run by the third generation. The common goal has always been to maintain the best of natural resources: the diversity of local flora and fauna, the well-being of water and irrigation, introducing increasingly advanced systems, but maintaining a focus on the traditions of the area and the local community development.
Harvesting is done following manual picking. The coffee cherries which are suitable for this type of process must be very ripe and have a purple color. This is why they are selected during the second and third harvests of the year. Once stripped and washed, they are left to ferment for a maximum of 20 hours and then placed inside the silos. Once the desired humidity has been obtained, the coffee is placed on some Marquesinas to finish drying naturally. The coffee is then selected with sieves, in especially grade 17/18, and placed inside rum barrels that have previously contained the so-called Rum tafia for at least 8 years. The coffee is left here for about 3 months. A sample is taken every 30 days for analysis. The next step is then to achieve the desired result: a coffee with the aroma and taste of rum.