Galapagos
San Cristobal
---
Roasting
Moka/Espresso
Aromatic notes
MANGO
YELLOW PEACH
APRICOT
The Hacienda El Cafetal has been growing coffee since 1875, when Don Manuel Cobos had the intuition to import coffee from Ethiopian land to start his 247-hectare plantation. Incredibly, coffee today is produced from the same plants, the original ones planted in 1875.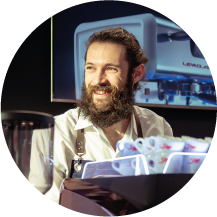 Who roasts our coffees?
Rob The Roaster, the Italian-Dutch trainer of Espresso Academy and SCA authorized, roasts your coffee. A great explorer of coffee, its processing methods, roasting profiles and the whole world who lives behind a cup of coffee.
Would you like
to contact Rob The Roaster
for more information on coffees and roasting profiles? Write to him at
[email protected]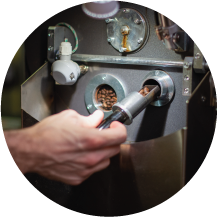 When do we roast?
Rob roasts your coffee on Tuesdays and Fridays, following the orders arrived. If roasted for espresso, the coffees are then subjected to degassing for 2-4 days, depending on the season and the variety of coffee.
Origin: San Cristobal Island
Finca: Hacienda El Catefal
Growth altitude: 1000-1200 mt a.s.l.
Variety: Blue Mountain, Bourbon
Processing method: Washed
Certifications: Organic
Everything you want to know
---
This exceptional coffee plantation, located in the suggestive and wild Galapagos Islands, is certified organic and "bird friendly": some areas have been set up for birds that use the island as a "stopover". The coffee is grown in the shade of the trees of the forest of the Hacienda El Cafetal, located on the island of San Cristobal.
This coffee was extracted, for this evaluation, in espresso at 93 °, with an extraction of 25 ml in 24 seconds. The degassing of the coffee was 60 hours. The cream is light hazelnut with slight reddish nuances. On the nose the sensations are decidedly fine: mango, yellow peach and candied apricot.
Although light-bodied, this coffee has more roundness than one might imagine. The acidity is balanced by a nice sweetness.