Sumatra
Queen Ketiara
---
Roasting
Moka/Espresso and filter
Aromatic notes
SPICES
BALSAMIC HERBS
MINT
A selected organic coffee, perfect for espresso thanks to its full and round body. Also very good when extracted for filter, which enhances this coffee's balsamic and mint notes in the aftertaste.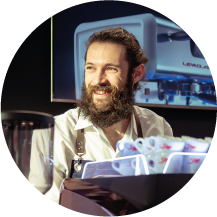 Who roasts our coffees?
Rob The Roaster, the Italian-Dutch trainer of Espresso Academy and SCA authorized, roasts your coffee. A great explorer of coffee, its processing methods, roasting profiles and the whole world who lives behind a cup of coffee.
Would you like
to contact Rob The Roaster
for more information on coffees and roasting profiles? Write to him at
[email protected]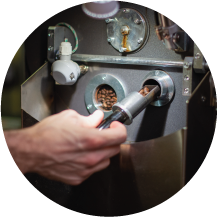 When do we roast?
Rob roasts your coffee on Tuesdays and Fridays, following the orders arrived. If roasted for espresso, the coffees are then subjected to degassing for 2-4 days, depending on the season and the variety of coffee.
Origin: Gayo Highland
Finca: Ketiara Cooperative
Growth altitude: 1200-1500 mt a.s.l.
Variety: Bourbon, Typica, Caturra, Catimor
Processing method: Semi-washed
Certifications: Specialty Coffee, Organic
Cupping score: 87 points SCA
Everything you want to know
---
The Ketiara cooperative was born about 20 years ago thanks to Mrs. Ramah, one of the first women, if not the first, to carry out this type of business on the island of Sumatra.
This coffee is composed by Bourbon, Typica, Caturra and Catimor varieties and grown at an altitude of 1200-1500 meters in the tropical forests of the Gayo region.
The Sumatra Queen Ketiara coffee is processed with care during all stages of the supply chain. The selection of the ripest drupes, done with a very selective manual picking, takes place in the morning and in the afternoon. The drupes are processed inside the processing stations where the parchments arrive already depulped by hand. To best guarantee quality, the time between harvesting and processing is never more than 12 hours. Once the coffee arrives at the processing plant, the parchments are dried on raised beds and processed with the Wet Hulled method (Giling Basah) which involves removing the parchment from the beans before complete drying.
The lot we selected has obtained the Organic / Bio certification which guarantees cultivation without the use of chemical fertilizers and respecting the environment, with important attention to the social impact for producers.