Brazil
Farm Isidro Pereira
---
Roasting
Moka/Espresso
Aromatic notes
MILK CHOCOLATE
ALMOND
RAISINS
A Brazilian Specialty coffee grown in the Carmo de Minas region by Isidro Pereira and his son Luiz Paulo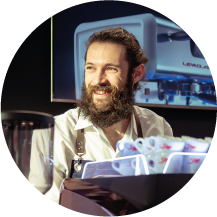 Who roasts our coffees?
Rob The Roaster, the Italian-Dutch trainer of Espresso Academy and SCA authorized, roasts your coffee. A great explorer of coffee, its processing methods, roasting profiles and the whole world who lives behind a cup of coffee.
Would you like
to contact Rob The Roaster
for more information on coffees and roasting profiles? Write to him at
[email protected]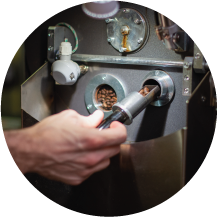 When do we roast?
Rob roasts your coffee on Tuesdays and Fridays, following the orders arrived. If roasted for espresso, the coffees are then subjected to degassing for 2-4 days, depending on the season and the variety of coffee.
Origin: Carmo de Minas
Finca: Fazenda Isidro Pereira
Growth altitude: 950-1200 mt a.s.l.
Variety: Acaia
Processing method: Natural
Certifications: Specialty Coffee
Cupping score: 83
Everything you want to know
---
Isidro Pereira, father of Luiz Paulo, purchased Fazenda IP in 1967. At that time, Luiz was pursuing his university studies which would lead him to obtain a degree in agricultural techniques before joining his father in managing the plantation.
In 1974, at the initiative of Luiz Paulo, Fazenda IP began an expansion program that saw the amount of cultivated land and, consequently, coffee plants grow exponentially.
But the real turning point in Fazenda IP came when, decades later, it was decided to invest in a depulping machine and start studying and experimenting with new coffee processing methods to improve the quality of the harvest and produce beans that could be classified as Specialty Coffee.
A corporate policy that rewards cultivators with higher scores and penalizes those with defects has ensured that, after training on coffee processing methods and how these can improve cup quality, all the coffee grown at Fazenda IP has reached high standards in terms of quality, which has taken them several times in recent years to the finals of the Brazilian Cup of Excellence.
Of the over 700 hectares that make up Fazenda IP, 80 are dedicated to rainforest and nature reserve, where 12 springs originate.
The Acaia variety that makes up this lot is a hybrid between Typica and Bourbon, very genetically close to Mundo Novo, another variety widely grown in Brazil. This variety performs best between 800 and 1200m above sea level and is characterized by large leaves and fruits that turn a bright red when mature.
The mature fruits are dried on concrete patios for about 20/25 days until the drupe is completely dry.
A coffee that expresses itself best as espresso, with a creamy body, a fine acidity and a high sweetness with notes of milk chocolate, almond and raisins.
Tasting according to the SCA protocol, this lot scored 83 SCA points.