Tanzania
Farm Karagwe
---
Roasting
Moka/Espresso
A selected Robusta coffee produced by a cooperative of small producers on the heights of the Karagwe region in Tanzania.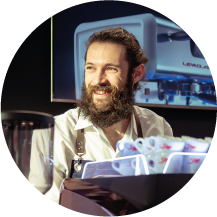 Who roasts our coffees?
Rob The Roaster, the Italian-Dutch trainer of Espresso Academy and SCA authorized, roasts your coffee. A great explorer of coffee, its processing methods, roasting profiles and the whole world who lives behind a cup of coffee.
Would you like
to contact Rob The Roaster
for more information on coffees and roasting profiles? Write to him at
[email protected]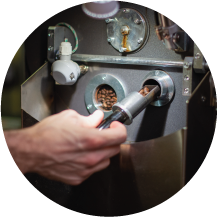 When do we roast?
Rob roasts your coffee on Tuesdays and Fridays, following the orders arrived. If roasted for espresso, the coffees are then subjected to degassing for 2-4 days, depending on the season and the variety of coffee.
Origin: Kagera
Finca: Karagwe District Cooperative Union
Growth altitude: 1200-1800 mt s.l.m.
Variety: Robusta
Processing method: Naturale
Everything you want to know
---
The Karagwe District Cooperative Union is a cooperative founded in 1990 that collects many small producers from the region near Lake Victoria, bordering Rwanda and Uganda. The main objective of the KDUC is the production of selected Robusta coffee on the highlands of the Karagwe and Kyerwa regions.
Coffee is an important but still limited source of income for farmers due to the small size of the plantations. Coffee grown in the region is 100% organic, although not certified, as farmers do not have the funds to use chemical fertilizers, pesticides, or herbicides. Coffee cultivation is accompanied by other crops such as corn, millet, beans, and poultry and cattle farming. Cattle farming is also beneficial for supplying organic fertilizer and helps maintain soil fertility and the right level of humidity.
During the harvest period, between April and July, farmers manually collect all the ripe cherries and take care of the drying on patios and raised beds. During the drying phase, the drupes are regularly rotated to ensure an even drying and further selected to remove any immature beans or foreign objects. Once the beans are dried, they are transported to the Cooperative, which removes the parchment, selection, and packaging for export.
Members of the KDUC face numerous difficulties every day, the main one is undoubtedly the cost of purchasing agricultural equipment, fertilizers, and new plants necessary to increase production and combat the lack of resources. The KDUC supports its members through various initiatives ranging from favorable loans for the purchase of new equipment to the use of Fair-Trade price premiums to help farmers and support school education in the area