Brazil
Alta Mogiana Franca
---
Roasting
Moka/Espresso
Aromatic notes
TOASTED BREAD
COCOA BISCUITS
Grown and processed in the Alta Mogiana district, Brazil is the leading producer and exporter of coffee in the world. A fruity and sweet cup of coffee.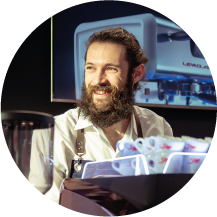 Who roasts our coffees?
Rob The Roaster, the Italian-Dutch trainer of Espresso Academy and SCA authorized, roasts your coffee. A great explorer of coffee, its processing methods, roasting profiles and the whole world who lives behind a cup of coffee.
Would you like
to contact Rob The Roaster
for more information on coffees and roasting profiles? Write to him at
[email protected]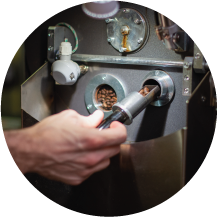 When do we roast?
Rob roasts your coffee on Tuesdays and Fridays, following the orders arrived. If roasted for espresso, the coffees are then subjected to degassing for 2-4 days, depending on the season and the variety of coffee.
Origin: Alta Mogiana
Finca: Cooperative Alta Mogiana
Growth altitude: 900-1000 mt a.s.l.
Variety: Bourbon, Caturra
Processing method: Natural
Everything you want to know
---
Brazilian coffees are distinguished by their natural roundness, giving an extremely clean cup that binds to any other origin without overpowering the taste. This is why it's frequently used as a base for blends. Of course it's impossible to speak of" classic Brazilian coffee" because of the vast size of this country, but some areas give a very uniform and stable bean quality.
This Alta Mogiana coffee has an intense body with a good acidity and a nice medium sweetness: the classic Brazilian taste. For this evaluation, this coffee was tasted and extracted in espresso at 93°C, with an extraction of 25 ml in 25 seconds. The degassing of the coffee took about 48 hours. The crema has a hazelnut color, with slightly reddish hues. We can smell clear sensations of toast and biscuit, in some cases of cocoa biscuit. To the taste, the coffee has a medium body and a very pleasant sweetness, harmonized by a slight bitter sensation and a very soft acidity. A perfect coffee for espresso or moka.