Colombia
San Alberto
---
Roasting
Moka/Espresso and filter
Aromatic notes
CREAM
TROPICAL FRUIT
CARAMEL
A community of 22 women who grow this coffee in the mountain region of San Alberto in Colombia and carrying out a project of social and environmental sustainability.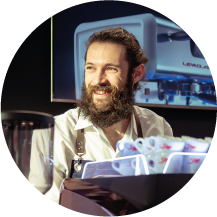 Who roasts our coffees?
Rob The Roaster, the Italian-Dutch trainer of Espresso Academy and SCA authorized, roasts your coffee. A great explorer of coffee, its processing methods, roasting profiles and the whole world who lives behind a cup of coffee.
Would you like
to contact Rob The Roaster
for more information on coffees and roasting profiles? Write to him at
[email protected]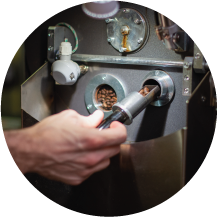 When do we roast?
Rob roasts your coffee on Tuesdays and Fridays, following the orders arrived. If roasted for espresso, the coffees are then subjected to degassing for 2-4 days, depending on the season and the variety of coffee.
Origin: Norte de Santander
Finca: San Alberto, Toledo
Growth altitude: 1600/1800mt s.l.m.
Variety: Colombia Castillo
Processing method: Washed
Certifications: Specialty Coffee
Cupping score: 84
Everything you want to know
---
An excellent, balanced and aromatic coffee, with intense sweet scents that recall tropical- and ripe citrus fruits with hints of cream and caramel. In the aftertaste we also find a pleasant floral note.
The EMURSA association was founded in 2015 in a small village in the province of Toledo, in north-eastern Colombia, founded by 22 women. Today the group represents 25 plots of land used to produce coffee, fruit, cereals and other products these families need.
The village is located 8 hours from the nearest town and families don't have access to basic necessities. They don't have access to fertilizers, therefore all products used for the growth of the plants are of natural and organic origin. This Specialty Coffee is Women Coffee Project certified.
In recent years these farmers have invested time and resources to improve the quality of their coffee, as it's among the most profitable of their products. This batch is processed with the washed method and develops pleasant acidity and sweetness.
This unique lot received a score of 84 points with the Specialty Coffee Association.