Guatemala
Onà
---
Roasting
Moka/Espresso
Explore the profile of this Fine Robusta coffee from 'Mujeres en Cafe' and immerse yourself in a cup that represents the passion of women coffee producers and the commitment to quality and sustainability.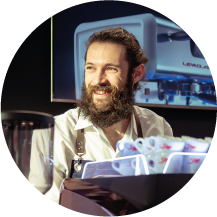 Who roasts our coffees?
Rob The Roaster, the Italian-Dutch trainer of Espresso Academy and SCA authorized, roasts your coffee. A great explorer of coffee, its processing methods, roasting profiles and the whole world who lives behind a cup of coffee.
Would you like
to contact Rob The Roaster
for more information on coffees and roasting profiles? Write to him at
[email protected]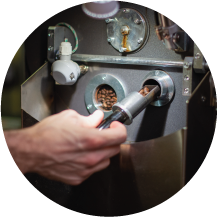 When do we roast?
Rob roasts your coffee on Tuesdays and Fridays, following the orders arrived. If roasted for espresso, the coffees are then subjected to degassing for 2-4 days, depending on the season and the variety of coffee.
Origin: San Marcos
Finca: Onà
Growth altitude: 835/1280mt. a.s.l.
Variety: Nemaya
Processing method: Washed
Certifications: Rainforest Alliance, Mujeres en Cafè
Everything you want to know
---
This exquisite Fine Robusta coffee is cultivated in the renowned Finca Onà, located in the San Marcos region of Guatemala, at an altitude ranging from 835 to 1280 meters above sea level.
Finca Onà is one of the oldest coffee plantations in Guatemala; its name "Oná" derives from the native language and means "refuge of the bees." The primary goal of the owners of this estate has always been to improve the lives of the community members. Within the cooperative, a nursery and an elementary and middle school have been established, demonstrating a tangible commitment to educating the children of the producers. In 2002, it was one of the first cooperatives to obtain Rain Forest Alliance (RFA) certification thanks to its environmental conservation practices.
"Mujeres en Cafe" Project: This robusta coffee is part of the "Mujeres en Cafe" project, born from the energy and determination of a group of courageous and hardworking women coffee producers in Guatemala. The project aims to fully leverage the potential of their coffee and ensure a sustainable income for their families, marking a significant step forward in an industry traditionally dominated by men.
The favorable climatic conditions in which this coffee is born contribute to its excellence. Finca Onà benefits from an optimal altitude and a territory that imparts unique characteristics to the coffee. The mature cherries are carefully selected and subjected to the washed processing method. This Fine Robusta coffee offers a rich range of flavors reminiscent of dried fruit, almond, honey, and chocolate. The taste is sweet and balanced, with a full and harmonious body. The creaminess persists, and the aftertaste leaves a pleasant note of chocolate