Guatemala
Antigua Pastores
---
Roasting
Moka/Espresso
Aromatic notes
VANILLA
ALMONDS
CARAMELIZED AGRUMS
A coffee trees grown at high altitudes, usually have an exceptional taste, full body, spicy aroma and perfectly balanced acidity as does this coffee from Guatemala Antigua.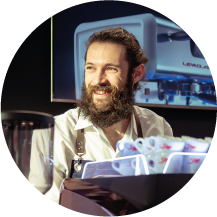 Who roasts our coffees?
Rob The Roaster, the Italian-Dutch trainer of Espresso Academy and SCA authorized, roasts your coffee. A great explorer of coffee, its processing methods, roasting profiles and the whole world who lives behind a cup of coffee.
Would you like
to contact Rob The Roaster
for more information on coffees and roasting profiles? Write to him at
[email protected]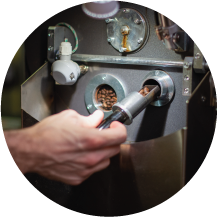 When do we roast?
Rob roasts your coffee on Tuesdays and Fridays, following the orders arrived. If roasted for espresso, the coffees are then subjected to degassing for 2-4 days, depending on the season and the variety of coffee.
Origin: Antigua
Finca: Area of Pastores
Growth altitude: 1000-1300 mt a.s.l.
Variety: Typica
Processing method: Washed
Everything you want to know
---
This Guatemalan coffee from the area of Antigua, is highly recognized for to which it is subjected in the subsequent harvesting and processing phase. The magnificent region of Antigua, which develops between volcanoes, enjoys the perfect climate and volcanic soil which is very rich in nutrients.
Coffee grown at high altitudes usually results in an exceptional taste with a full body, spicy aroma and perfectly balanced acidity.
For this evaluation, the coffee was extracted into espresso at 94 ° with an extraction of 25 ml in 27 seconds. The degassing of the coffee took 60 hours.
The cream is a light hazelnut color with slightly more pronounced nuances. Among the aromas prevails tobacco, vanilla and there are slight biscuit sensations. The light body and pleasant acidity make this coffee very elegant and truly fine.