Mexico
La Concordia
---
Roasting
Moka/Espresso and filter
A coffee grown on the heights of Chiapas, for a cup with good body and a marked sweetness, certified Organic/ Bio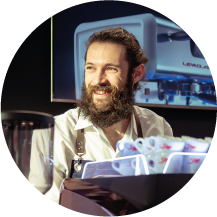 Who roasts your coffee?
Rob The Roaster, the Italian-Dutch trainer of Espresso Academy and SCA authorized, roasts your coffee. A great explorer of coffee, its processing methods, roasting profiles and all topics regarding coffee.
Would you like
to contact Rob The Roaster
for more information on our coffees and roasting profiles, just drop him an e-mail at
[email protected]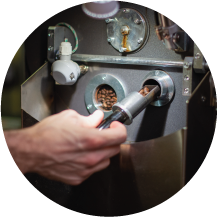 When do we roast?
Rob roasts your coffee on Tuesdays and Fridays. If the beans are roasted for espresso, they then undergo a degassing of 2-4 days, depending on the season and the coffee variety.
Origin: Chiapas
Finca: La Concordia
Growth altitude: 1000-1200 mt a.s.l.
Variety: Costarica, Obata, Marseillesa, Oro Atzeca
Processing method: Washed
Certifications: Organic BIO
Cupping score: 83 points SCA
Everything you want to know
---
The region of "La Concordia" is renowned for the production of excellent Specialty Coffees thanks to the agroclimatic conditions of the area. Altitude, soil, biodiversity but above all the passion and efforts of the farmers living in this region are one of the main factors to producing what they call the "Green Gold".
Another very important element is the region's climate, characterized by dry and rainy seasons, which are "synchronized" to the physiological life of the coffee plant. During harvest, the weather is cold and with little rain and this helps to prolong the fermentation time and ease the drying of the parchment improving the quality of the cup.
The cultivation of coffee takes place in an organic way which allows for the preservation of the environmental sustainability of the area, where many botanical varieties and animal species coexist, from large felines like the jaguar to colorful birds like the Quetzal.
The small farmers of this region take an artisanal approach to their production, carefully following every step, from the harvest to the drying of the parchment beans.
During the harvest season, the ripe drupes are manually selected, and after passing through a depulping machine, the beans are fermented for 12-17 hours in water tanks. At the end of fermentation, the coffee is washed and dried in the sun on concrete patios or raised beds.  
This lot is made with the Costa Rica, Obata, Marseillesa, Oro Atzeca varieties and has a Organic/BIO certification.
In the cup, it looks like a very balanced coffee, with a good sweetness, soft body, with notes of malt, chocolate, and caramel.
This microlot received 83 points by the SCA protocol.