China
Ou Yang
---
Roasting
Moka/Espresso and filter
It's not a surprise that many people associate China with tea rather than coffee. Let alone thinking that an excellent single origin and specialty coffee comes from China. The province of Yunnan in the South of the country produces a very high quality coffee that it beginning to be known in the world of high quality coffee.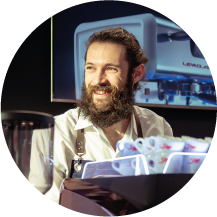 Who roasts our coffees?
Rob The Roaster, the Italian-Dutch trainer of Espresso Academy and SCA authorized, roasts your coffee. A great explorer of coffee, its processing methods, roasting profiles and the whole world who lives behind a cup of coffee.
Would you like
to contact Rob The Roaster
for more information on coffees and roasting profiles? Write to him at
[email protected]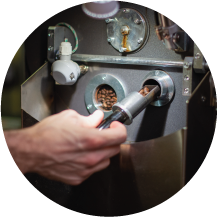 When do we roast?
Rob roasts your coffee on Tuesdays and Fridays, following the orders arrived. If roasted for espresso, the coffees are then subjected to degassing for 2-4 days, depending on the season and the variety of coffee.
Origin: Yunnan
Finca: Ou Yang
Growth altitude: 1250-1300 mt a.s.l.
Variety: Catimor P3/P4
Processing method: Natural, double fermentation
Certifications: Specialty Coffee
Cupping score: 87,25 points SCA
Everything you want to know
---
Chiliarch Coffee Plantation, also known as Ou Plantation was founded in 2012 thanks to a passion and commitment to the cultivation of organic coffee with highest quality and in the most sustainable way. Mr. David Ou Yang is the owner of this plantation, which covers 78 hectares.
Driven by a great passion for coffee, over time he has successfully developed new processing techniques, experimenting with alternative methods of fermentation and drying. Thanks to the high price on the market of high quality coffee, his goal is to help local communities to get out of poverty.
The entirely hand-picked drupes of this batch, are placed in hermetic containers for fermentation over 2/3 days, during which the mucilage separates more quickly from the beans. They are then dried in the sun on raised beds until they reach 40% of humidity. At this point they are placed again in airtight containers for a second fermentation of 4/5 days. At the end of the process, the coffee is spread over raised beds for another 28 days of drying. This technique, called "double fermentation" requires very careful monitoring given the high risk of excessive fermentation and mold.
In the cup it looks like a complex coffee, with a slight acidity and good body. Sweet notes reminiscent of molasses and nougat are combined with more fruity notes of ripe plum.
HISTORY PILLS
The cultivation of coffee in the Yunnan region has changed dramatically in the last 30 years of the 1900s. An intensive development program for coffee cultivation has since then been put in place. Today, with the expansion and increase of coffee cultivation and processing techniques, the quality continues to improve more and more, in the pursuit of an organic and sustainable approach.