Tanzania
Robusta AB
---
Roasting
Moka/Espresso
Aromatic notes
BITTER COCOA
CARAMEL
WOOD
In Tanzania, Robusta coffee is grown almost exclusively in the Bukoba region, on the shores of Lake Victoria. A very high quality of the Robusta variety.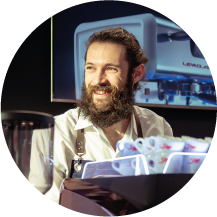 Who roasts our coffees?
Rob The Roaster, the Italian-Dutch trainer of Espresso Academy and SCA authorized, roasts your coffee. A great explorer of coffee, its processing methods, roasting profiles and the whole world who lives behind a cup of coffee.
Would you like
to contact Rob The Roaster
for more information on coffees and roasting profiles? Write to him at
[email protected]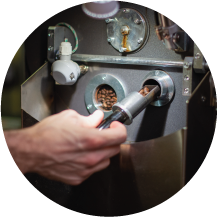 When do we roast?
Rob roasts your coffee on Tuesdays and Fridays, following the orders arrived. If roasted for espresso, the coffees are then subjected to degassing for 2-4 days, depending on the season and the variety of coffee.
Origin: Bukoba
Growth altitude: 1100-1200 mt a.s.l.
Variety: Robusta
Processing method: Natural
Everything you want to know
---
The particular humidity of the area, combined with the cultivation in the shade, a classic of small African plantations, gives this coffee a great body combined with a sweetness which is not common in Robusta coffees.
For this evaluation the coffee was tasted and extracted in espresso at 91°C (for robusta, lower temperatures are more preferable) with an extraction of 25 ml in 26 seconds. The degassing of the coffee took place in 48 hours. The crema has a dark hazelnut color, without nuances. The aromas we can detect are of wood and dark caramel, in some cases of bitter cocoa.
In the cup, the coffee is extremely full-bodied without acidity. A perfect coffee for espresso or moka.