Kenya
AA Kiamwangi
---
Roasting
Moka/Espresso and filter
A coffee grown in the highlands of the Nyeri region in Kenya. with intense fruity and floral notes.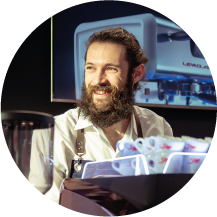 Who roasts our coffees?
Rob The Roaster, the Italian-Dutch trainer of Espresso Academy and SCA authorized, roasts your coffee. A great explorer of coffee, its processing methods, roasting profiles and the whole world who lives behind a cup of coffee.
Would you like
to contact Rob The Roaster
for more information on coffees and roasting profiles? Write to him at
[email protected]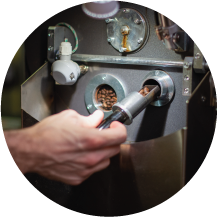 When do we roast?
Rob roasts your coffee on Tuesdays and Fridays, following the orders arrived. If roasted for espresso, the coffees are then subjected to degassing for 2-4 days, depending on the season and the variety of coffee.
Origin: Nyery, Mathira
Finca: Kiamwangi Washing Station
Growth altitude: 1750mt a.s.l.
Variety: SL28, SL34, Batian
Processing method: Washed
Certifications: Specialty Coffee
Cupping score: 87
Everything you want to know
---
On the scenic Kenyan highlands, close to the equator coffee is harvested during wintertime. Numerous families of small producers, associated with various agricultural cooperatives, harvest the ripe coffee cherries, by hand, and resell them at the Kiamwangi processing station.
The most common varieties are the Bourbon SL hybrids, which are tolerant to the prolonged droughts that occasionally affect these regions, have a limited production capacity but an exceptional aromatic potential, especially if grown at high altitude.
Entirely processed by hand with fresh water, the batches are stripped, left to ferment, and subsequently washed for at least 24 hours. The drying reaches 10 days and ends when the relative humidity of the grain reaches 12%.
A coffee with an excellent olfactory intensity rich in fragrances ranging from jasmine to fresh citrus fruits. In the cup hints of cedar, ripe lemon, candied ginger, and sweet notes of white grapes.
This coffee received 87 points by the SCA (Specialty Coffee Association) protocol.