Puerto Rico
San Pedro
---
Roasting
Moka/Espresso
Aromatic notes
CARAMEL
CHOCOLATE
AROMATIC SPICES
The coffee of this Caribbean island is generally grown and selected with care, nothing is left to chance. It all started in the 19th century when a thirteen year old Spanish boy arrived in Jayuya with only one suitcase and a thousand dreams.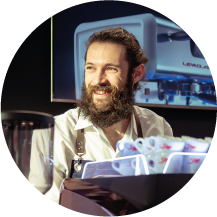 Who roasts our coffees?
Rob The Roaster, the Italian-Dutch trainer of Espresso Academy and SCA authorized, roasts your coffee. A great explorer of coffee, its processing methods, roasting profiles and the whole world who lives behind a cup of coffee.
Would you like
to contact Rob The Roaster
for more information on coffees and roasting profiles? Write to him at
[email protected]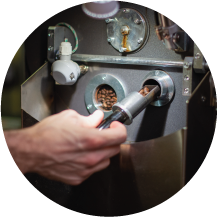 When do we roast?
Rob roasts your coffee on Tuesdays and Fridays, following the orders arrived. If roasted for espresso, the coffees are then subjected to degassing for 2-4 days, depending on the season and the variety of coffee.
Origin: Jayuya
Finca: Hacienda San Pedro
Growth altitude: 1200-1400 mt a.s.l.
Variety: Bourbon, Typica
Processing method: Washed
Everything you want to know
---
The thirteen year old Spanish boy was called Emeterio Atienza, who in addition to being a dreamer was also an excellent worker and in a short time became responsible for one of the most prestigious cafes in Puerto Rico. Don Emeterio was also an excellent farmer and teaching other farmers who worked in coffee plantations, he managed to gain respect for his wisdom and perseverance.In 1930, after years of hard work, Don Emeterio managed to buy his farm in the Coabey neighborhood of Jayuya and baptized it Hacienda San Pedro. Every morning, on horseback, Don Emeterio inspected all his flowering plants, checking them one by one. Each plant had its own name, a tradition carried on by his son Alberto and today by his nephew Roberto, in honor of a long family tradition.
The coffee grown in the Hacienda San Pedro is completely harvested by hand and processed with the same craftsmanship desired by Don Emetrio. It's then left to dry in old barrels. These four generations have ensured that the coffee has become one of the most popular in the world, thanks to its distinctive and unique character.
Rich and seductive flavors emerge in the cup, a soft and velvety coffee. The nose perceives a sweet, caramelized aroma with delicate shades of chocolate and slight hints of aromatic spices, such as sage and rosemary.
Fun fact: the production of coffee on the island was started by emigrants from Corsica, who settled on the Caribbean island around 1850. This coffee is still today the one served in the papal apartments of Vatican City.