Colombia
Farm Inza Cauca
---
Roasting
Moka/Espresso
A coffee produced by 52 small coffee producers on the Colombian plateau in the Inza Cauca region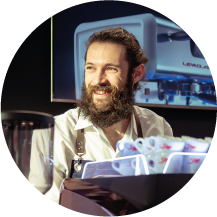 Who roasts our coffees?
Rob The Roaster, the Italian-Dutch trainer of Espresso Academy and SCA authorized, roasts your coffee. A great explorer of coffee, its processing methods, roasting profiles and the whole world who lives behind a cup of coffee.
Would you like
to contact Rob The Roaster
for more information on coffees and roasting profiles? Write to him at
[email protected]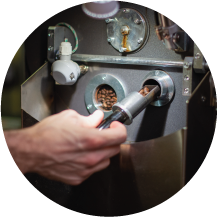 When do we roast?
Rob roasts your coffee on Tuesdays and Fridays, following the orders arrived. If roasted for espresso, the coffees are then subjected to degassing for 2-4 days, depending on the season and the variety of coffee.
Origin: Inza Cauca
Finca: 52 small coffee producers
Growth altitude: 1500 - 1800 mt a.s.l.
Variety: Caturra, Colombia
Processing method: Washed
Certifications: Specialty Coffee
Cupping score: 85,25
Everything you want to know
---
The municipality of Inza is located on the Colombian plateau, or as it is locally known, the "Macizo Colombiano" which surrounds the high peaks of Tolima and Huila. This region, facing the Pacific Ocean, is an important source of water and wildlife, and is also renowned for coffee production.
This lot was produced by 52 small coffee producers from the region, members of the ASORCAFE (Asociación de Productores de Café del Oriente Caucano) organization, selecting the coffee produced in two neighboring municipalities: Pedregal and San Antonio. The botanical varieties used are 70% Caturra and 30% Colombia.
Each micro-lot was tasted and selected to have scored over 85 points during the cupping conducted in the quality laboratory.
The coffee growers association, ASORCAFE, was founded in 2004 by 10 coffee growers, tired of seeing their crop purchased at prices below the national average. The violent past of this Colombian region, with a strong presence of FARC guerillas, had historically prevented the FNC (Federacion National de Cafeteros) and specialized exporters from establishing a presence in the region.
Fortunately, violence has diminished in recent years, allowing coffee growers in the region greater access to markets for quality coffee and an additional economic resource brought by nearby tourist destinations such as the "Parque Nacional Arqueológico de Tierradentro", a UNESCO World Heritage site.
In the cup, this coffee presents itself with a velvety body, citrus and caramel notes and a sweet and spicy aftertaste that reminds of cinnamon.
According to the SCA protocol, this lot scored 85,25 points.