Passion Fruit
Coffee infused with fruit
---
Roasting
Moka/Espresso and filter
Aromatic notes
PASSION FRUIT
PAPAYA
ARANCIA
A coffee fermented anaerobically with the addition of Passion Fruit, is an example of how innovation and commitment can lead to extraordinary results, offering an unforgettable cup of coffee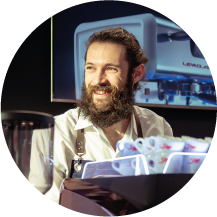 Who roasts our coffees?
Rob The Roaster, the Italian-Dutch trainer of Espresso Academy and SCA authorized, roasts your coffee. A great explorer of coffee, its processing methods, roasting profiles and the whole world who lives behind a cup of coffee.
Would you like
to contact Rob The Roaster
for more information on coffees and roasting profiles? Write to him at
[email protected]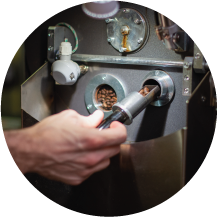 When do we roast?
Rob roasts your coffee on Tuesdays and Fridays, following the orders arrived. If roasted for espresso, the coffees are then subjected to degassing for 2-4 days, depending on the season and the variety of coffee.
Origin: Colombia: Armenia, Quindio
Finca: Finca Villarazo
Growth altitude: 1400-1450 mt. a.s.l.
Variety: Pink Bourbon
Processing method: Honey + anaerobic fermentation with Passion Fruit
Certifications: Specialty Coffee
Cupping score: 88,5 points SCA
Everything you want to know
---
Jairo Arcila belongs to the third generation of a family of coffee producers in the Quindio region of Colombia. After gaining significant experience as a Mill Manager for one of the country's largest coffee exporters, he decided to focus on the production of specialty coffee, in collaboration with his sons Carlos and Felipe.
At Finca Villarazo, Jairo Arcila cultivates many exotic botanical varieties such as Gesha, Papayo, and Pink Bourbon, and it is this latter variety that is used in this micro-lot. The cultivation takes place at an altitude of 1400-1450 meters above sea level, where the Pink Bourbon plants, a hybrid variety originating from the Colombian region of San Adolfo, produce fruits with a beautiful pinkish color.
Jairo Arcila's approach to coffee production stands out for the use of innovative production processes, and this micro-lot is certainly a demonstration of that. After the manual selection and harvesting of the coffee fruits, they are subjected to a 72-hour anaerobic fermentation process, with the addition of Passion Fruit and Wine Yeast. This process creates an oxygen-free environment and allows the beans to develop a unique organoleptic profile, also thanks to direct contact with the fruit.
After fermentation, the fruits are depulped, and the coffee beans are placed on raised beds with the addition of Passion Fruit for the drying phase to achieve the correct moisture level.
The result of this process is a coffee with an exceptional organoleptic profile, characterized by fruity notes of Passion Fruit, Papaya, and Orange, accompanied by balanced acidity and good body.
When tasted according to SCA protocol, this unique lot obtained a score of 88.50 points.