Costarica
Tournon SHB
---
Costa Rica produces only Arabica coffee, in particular in Tournon region. Coffee is grown in the south of the country, near the Pacific coast.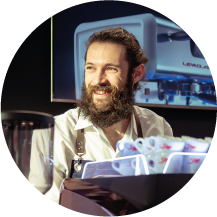 Who roasts our coffees?
Rob The Roaster, the Italian-Dutch trainer of Espresso Academy and SCA authorized, roasts your coffee. A great explorer of coffee, its processing methods, roasting profiles and the whole world who lives behind a cup of coffee.
Would you like
to contact Rob The Roaster
for more information on coffees and roasting profiles? Write to him at
[email protected]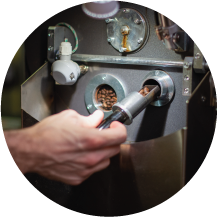 When do we roast?
Rob roasts your coffee on Tuesdays and Fridays, following the orders arrived. If roasted for espresso, the coffees are then subjected to degassing for 2-4 days, depending on the season and the variety of coffee.
Origin: Tournon
Growth altitude: 1200-1600 mt s.l.m.
Variety: Caturra, Villa Sarchi
Processing method: Lavato
Everything you want to know
---
In Costa Rica, coffee is grown almost exclusively above 1300 meters a.s.l, on rich and well-drained soil of volcanic origin. The Tournon area produces 40% of the coffee processed in Costa Rica. The abbreviation SHB (Strictly Hard Bean) indicates the altitude at which the coffee is grown, but it is also an indication of high-level coffee and careful selection of the drupes.
For this evaluation, the coffee was extracted in espresso at 93 ° with, an extraction of 25ml in 25 seconds. The degassing of the coffee was 48 hours.
The cream is a light hazelnut color, with brownish hues. Among the aromas we can perceived (especially in very young coffees) apple and dates notes, up to the sensation of fresh walnut. On the palate, a truly sweet coffee, with the usual acidity of washed but decidedly fine coffees.