Indonesia
Kopi Luwak
---
Roasting
Moka/Espresso
Kopi Luwak, of the wild certified, is one of the most expensive coffees in the world. An extraordinary single origin, chocolaty and very full-bodied. For true coffee lovers.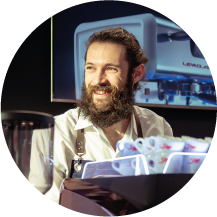 Who roasts our coffees?
Rob The Roaster, the Italian-Dutch trainer of Espresso Academy and SCA authorized, roasts your coffee. A great explorer of coffee, its processing methods, roasting profiles and the whole world who lives behind a cup of coffee.
Would you like
to contact Rob The Roaster
for more information on coffees and roasting profiles? Write to him at
[email protected]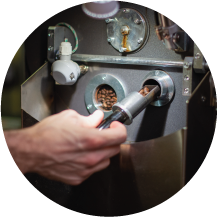 When do we roast?
Rob roasts your coffee on Tuesdays and Fridays, following the orders arrived. If roasted for espresso, the coffees are then subjected to degassing for 2-4 days, depending on the season and the variety of coffee.
Origin: Nord Sumatra
Growth altitude: 1200-1500 mt a.s.l.
Variety: S795, Tim Tim
Processing method: Digestion process
Everything you want to know
---
Perhaps the most extraordinary, discussed and expensive coffee in the world. The beans are ingested and evacuated by the Luwak, small rodents of the Indonesian forests, whose gastric enzymes are able to give the coffee an extraordinary, chocolaty aroma and a body without equal.
We are pleased to declare that the Kopi Luwak here on Caffèlab comes from plantations where this the famous animal, lives free and in the wilderness (See certification in the pictures).
For this evaluation, the coffee was tasted and extracted in espresso at 92°C, with an extraction of 25 ml in 23 seconds. The degassing of the coffee took 60 hours (two and a half days). The crema is full-bodied, tending to dark but not greyish as in the case of some Robusta coffees. The aroma has a marked cocoa and toast sensation which is typical of these coffees. The taste of the coffee is decidedly full-bodied and a marked sweetness is perceived on the tip of the tongue. The aroma and acidity are well balanced.