Java
Indonesia Robusta
---
Roasting
Moka/Espresso
Coffee from Java, is known to have one of the highest caffeine concentrations in the world.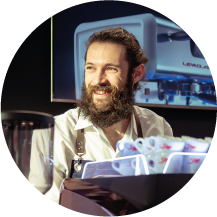 Who roasts our coffees?
Rob The Roaster, the Italian-Dutch trainer of Espresso Academy and SCA authorized, roasts your coffee. A great explorer of coffee, its processing methods, roasting profiles and the whole world who lives behind a cup of coffee.
Would you like
to contact Rob The Roaster
for more information on coffees and roasting profiles? Write to him at
[email protected]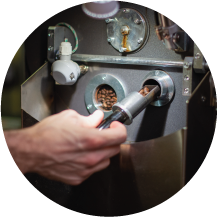 When do we roast?
Rob roasts your coffee on Tuesdays and Fridays, following the orders arrived. If roasted for espresso, the coffees are then subjected to degassing for 2-4 days, depending on the season and the variety of coffee.
Origin: Java
Finca: Subaraya
Growth altitude: 600-800 mt a.s.l.
Variety: Java Robusta
Processing method: Natural
Everything you want to know
---
Coffee plantations are present throughout the entire Indonesian archipelago and Java is one of the most important names in the history of coffee.
For this evaluation, the coffee was tasted and extracted in espresso at 91°C (to avoid overloading the bitterness) with an extraction of 25 ml in 24 seconds. The degassing of the coffee took 48 hours.
The crema has a very dark hazelnut color, without nuances. On the nose the sensations are marked by wood, dark caramel.
The taste of the coffee is very full-bodied with a good acidity, balanced by a pleasant sweetness. Definitely a coffee for strong palates and certainly perfect for espresso, but also made with the moka.